I usually decorate my front porch for all of the different seasons and holidays, but I don't really have anything for fall front door decor. I usually just wait until October and put up some Halloween decorations.
The weather here has been cool, overcast, rainy and very fallish (I just made that word up). So, it's got me wanting to put up some fall decorations, snuggle up with my kids, watch movies and eat some pumpkin pie.


I wanted to show you some fall front door decor that's got me inspired.
I love this apple wreath. 1) Because it's green and I love green (in case you hadn't noticed by how much of it I have in my house). 2) Because of its simplistic beauty. 3) Because when I'm busy and my kids ask me for a snack, I can just tell 'em to grab an apple off of the front door! But seriously, I do love it.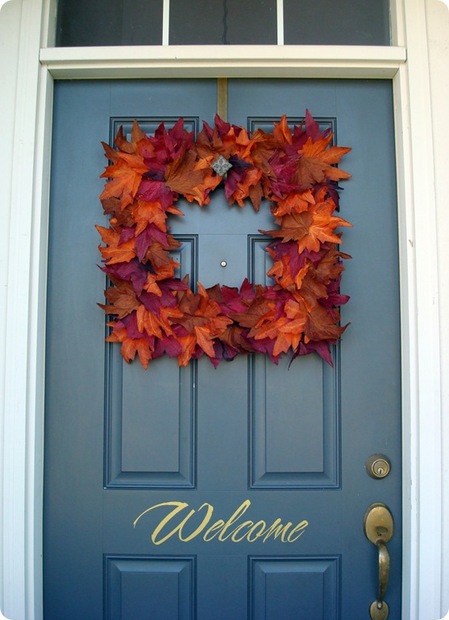 I love this wreath. I love how it's square and made from stuff from the dollar store. I love how the orange tones of the leaves coordinate so beautifully with the blue door. I also love the "Welcome" that's stenciled onto it. This might not work on my front door, however, because of the 'NO SOLICITING!" sign that I have taped onto it (yes, I was too cheap to buy one).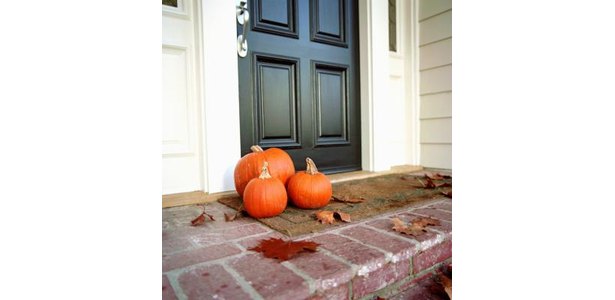 It doesn't have to be complicated. Sometimes, just a few well placed pumpkins are all it takes to say "fall." Mother Nature helped out too, with a smattering of a few well placed fall leaves. Hey, I'll take any excuse to not have to sweep off my front porch!
Here's a cute wreath. Although, I'm sure it will remind my kids of donut holes, which we were debating the other day. What's better? Donuts or donut holes? So, if I make something like this, I had better get some donuts or donut holes this weekend too.
Sorry I had nothing to show you this week in my son's room. Last weekend, I was working on a light project that was giving me grief, plus I was having some spray paint issues with his bed. The truth is though that there was an HGTV marathon session of the new season of Sarah's House that had me glued to the sofa. I've learned to accept that this is how I operate. I have periods of great productivity and creativity, followed by periods of recharging my batteries (total slackerville).


We'll see what this weekend brings. Hope you have a good one!